Director & Senior Media Person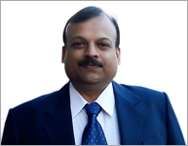 Milan Patel is a visionary leader with rich experience in business strategy and execution. He has passionately built innovative offerings across media, medical and marketing domains.
He built his reputation as a versatile media person working with Asia's biggest broadcasting & World's largest terrestrial network, Doordarshan. He has been a passionate producer and leveraged the great opportunity to look at societal problems closely and highlight them through powerful medium of media. He thus increased the awareness of varied problems of the society. He has created his unique signature style of media programs.
Milan Patel has a rich experience of 23 years and understands the medium to its core. He has covered several national and international events including the SAF (South Asian Federation Game), Wills World Cup, Reliance Cup, MRF Cup Tournament, 63 National Snooker and Billiards Championship, Common Wealth Games Broadcast. Milan was also the Information Officer for various events like Unicef Health program on strategic communication in using creative format for electronic media. He was also the West Zone cultural center coordinator for puppet, etc. As an independent programme producer, he was responsible for Health, Legal, Infrastructure Development, Rehabilitation Policy and Law, E-Governance, E-Court and Current Affairs.
Milan Patel has helped several business to commence, build and scale operations. He has vast experience in business operations management, vendor development, business development and government liaison. He has developed phenomenal business network across the region.
Milan Patel has brought a new focus and new dimension to medical marketing. He has taken the medical marketing to new heights with innovative ideas, exceptional packaging, flawless execution and strong business focus. He has ensured the stakeholders of medical fraternity actualize their business vision. He is also working as a Hon. Media Advisor to several NGOs ,Corporate Groups, Hospitals and Education Institutes.
Patel holds a B.com and Diploma in Drama degree from Gujarat University. He has undertaken Film Study Course with Youth and Cultural Department of Gujarat University under UGC Delhi Programme, Basic Television Training from Film and Television Training Institute, Govt of India Pune. He has successfully completed his PG Diploma in Intellectual Property Rights from Gujarat University.